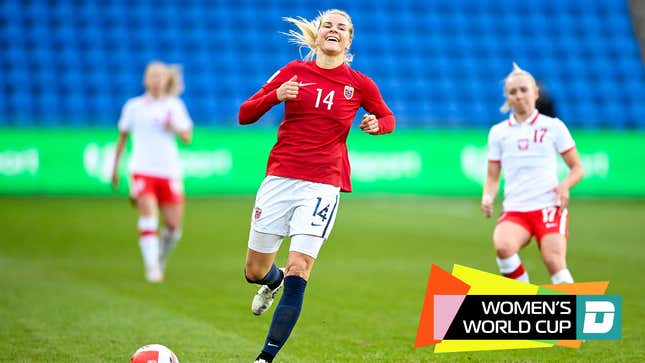 It's Norway and then everyone else. That's how Group A will shake out, even with hosts New Zealand trying to defend home territory from two European foes and a debutant from Asia. The runaway favorites to win the group are the Nordic, who will be one of the countries making the journey from the northern tip of Earth all the way south for the global showcase. This is the first FIFA Women's World Cup where there's guaranteed to be only two teams advancing from every group, as the tournament expanded from 24 to 32 teams for this edition, just in time for their male counterparts to also grow from 32 to 48 teams.
Christian Pulisic calls out lackluster attendance at USMNT friendly
Who else has a shot in Group A?
The increase in eight female teams making their way to Australia and New Zealand means three teams are most likely fighting for one spot to advance to the knockout stage, where they'll likely run into Japan. While the World Cup is always full of upsets, just ask Argentina prior to lifting the trophy about how it started festivities in Qatar, there's less parity on the women's side, evidenced by the United States going for an unprecedented third-straight World Cup victory. Norway could crumble under the pressure of the world stage, but it won't be likely against three countries they have much more firepower than.
Every host country in the history of the Women's World Cup has made at least the quarterfinals of the tournament, with a shocking number of those on home soil losing without making the Final Four. Only the United States in 1999 and 2003 didn't falter before the semifinals with the Americans in the previous millennium being the only host country to win. And who can ever forget that penalty-kick shootout win over China in the Rose Bowl? Sales for sports bras skyrocketed. Anyway, that streak is in serious jeopardy of ending this year, if it's not a certainty with New Zealand falling short. Australia's in Group B and has a good shot at making it that far with an in-form striker like Sam Kerr, while the Kiwis don't have any player of that quality. It's not close to a certainty that New Zealand makes it out of the group, although I'd give that coin-flip odds with Switzerland.
That leaves out the Philippines, who've never been on this stage before. Although I don't think the land of Kamayan feasts has a chance to advance, it does have tons of American ties. Forward Isabella Flanigan plays at West Virginia, defender Maya Alcantara suits up for Georgetown, and 17-year-old goalkeeper Kaiya Jota is a Stanford Cardinal. If you think that's young, meet Isabella Pasion, who instead of representing the Philippines from a college or professional team, is doing so out of Lebanon Trail High School in Frisco, Texas. The 16-year-old already has five international caps and is less than half the age of team captain Tahnai Annis. While the Philippines are no doubt Group A's Cinderella, what a great story it would be to see them have success. You couldn't write that stuff with AI. 
Norway will win the day
The most talented player in the group is likely Switzerland's Ana-Maria Crnogorčević, who plays for Barcelona's women's team. With 145 caps and 70 goals for the Swiss, she's a legitimate threat to win the Golden Boot if the Swiss make a deep run. The former Portland Thorn is the most-capped player called into the tournament by Switzerland head coach Inka Grings, and the expectations on her to deliver on the world stage will be huge. So what's my final prediction? Norway wins the group with Switzerland finishing as runners-up. The Philippines comes in third with a shock victory over co-hosts New Zealand, who don't win a game at the global showcase.