Season 04 reloaded of Call of Duty: Modern Warfare 2 and Warzone 2 will release on all platforms on July 12 at 9 AM PT. As expected, the latest major patch will address some issues while adding brand-new content in both games. These updates usually involve new skins, content, game modes, and weapons, and this one will be no different.
One of the latest additions in Season 04 Reloaded will be a new weapon called the MX Guardian. It appears to be the only gun added this time.
---
Unlocking the MX Guardian in Modern Warfare 2 and Warzone 2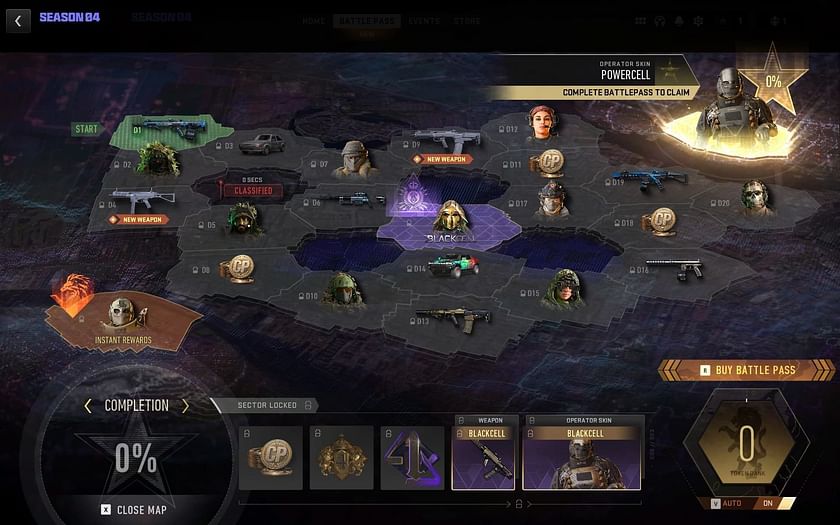 When Season 04 first launched, a notable sector was marked as classified on the Battle Pass map. According to Call of Duty's official patch notes for Season 04 Reloaded, this is the area where the MX Guardian is waiting to be unlocked.
To access this newest weapon for Modern Warfare 2 and Warzone 2, you must complete one of the following sectors: D2, D3, D4, D5, D6, or D7. Afterward, you will be able to enter the classified sector. If you have already completed any of these, you can access the new sector.
Instead of unlocking it through tokens, you must unlock the items leading up to the MX Guardian by completing challenges. According to Call of Duty's official patch notes, these challenges aim to help Operators understand the characteristics of this new weapon.
You need to complete five challenges to obtain the MX Guardian in Warzone 2 and Modern Warfare 2, with the fifth being the weapon itself. Here are the challenges and the rewards associated with them:
Dependable Emblem: Get 10 ADS Operator Kills with Shotguns
Gunfire Calling Card: Get 10 Hipfire Operator Kills with Shotguns
Fanning Hutch Loading Screen: Get 10 Headshot Operator Kills with Shotguns
1 Hour Double Weapon XP Token: Get 10 One Shot Operator Kills with Shotguns
MX Guardian: Earn all Sector Rewards
---
What type of weapon is the MX Guardian
Based on the challenges, the MX Guardian was expected to join the lineup of shotguns available in Warzone 2 and Modern Warfare 2. However, this shotgun will differ from all the currently available ones.
The MX Guardian is a fully automatic 12-gauge shotgun. It is dedicated to close-range encounters. Based on the description on Call of Duty's official notes, it will have less range and accuracy than the other weapons in its class while boasting much better firepower and firing rate. This weapon might be even better than the KV Broadside at close range.
It also has three firing modes: semi-auto, burst fire, and full-auto. With these options, The MX Guardian looks like a versatile close-range weapon. If you want to learn about other additions coming with Season 4 Reloaded, check out these new Operator skins.
Edited by Sijo Samuel Paul