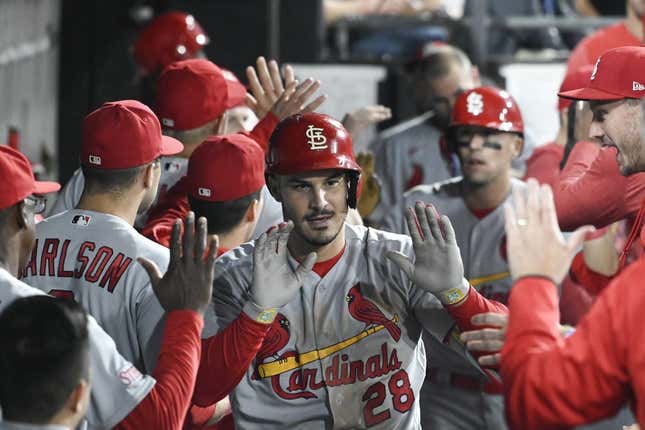 St. Louis Cardinals All-Star third baseman Nolan Arenado knows that despite his superstar status, he could be on the chopping block just like anyone else as the trade deadline approaches
Which home run derby finalist will have a better second half? | Agree to Disagree
"It is a business, right?" Arenado said.
"I've been traded once. I think that shocked a lot of people at that time," he added. "I guess it doesn't surprise me anymore what happens in this game."
Arenado made the comments from the All-Star festivities in Seattle. He's the lone Cardinals player in this year's Midsummer Classic
The typically successful Cardinals headed into the All-Star break sitting in the basement of the National League Central, a dismal 11.5 games behind the first-place Cincinnati Reds and 14 games under .500
"We're all surprised with what's going on here," Arenado said. "It's been a tough first half. Nobody wants this. We know St. Louis fans aren't happy about it and we completely understand. If they're not happy about it, then you can imagine where we're at."
The Cardinals have other players with expiring contracts who seem more likely to be packing their bags, including left-hander Jordan Montgomery and right-hander Jack Flaherty
"It would still be surprising seeing certain things happen," Arenado said. "But I understand that there's certain things that probably should."
Arenado earned his eighth career nod as a starter for the National League All-Star team. In 86 games this season, he's batting .283 with 19 home runs and 62 RBIs.
–Field Level Media