Hiver touts itself as the world's first Gmail-based help desk software. In other words you can use it entirely from Google Workspace without installing any unnecessary extra software. In theory this means minimal fuss with setup and virtually a zero learning curve, provided you can trust your data to the gods of Google. Read on to find out if Hiver deliver on their claims.
Hiver: Plans and Pricing
Hiver has three main pricing plans for 'customer service' as they call it. The 'Lite' tier costs $15 per user per month if paying annually of $19 per user if you pay month to month. The plan supports up to 10 agents over 2 shared e-mail inboxes.
Users have unlimited access to e-mail templates and tags. You can also set up live chat, your own knowledge base, Whatsapp channel and shared contacts. Other perks include collaboration on tickets, with 'collision' support to make sure two agents aren't working on the same matter unknowingly. Hiver also offer dedicated mobile apps for both Android and iOS.
The 'Pro' plan is supposedly Hiver's most popular, costing $39 per user per month if paying annually or $49 per user if paying monthly. It includes all of the above, along with unlimited users, plus more emphasis on SLAs and analytics. For instance, you can view SLA reports and even alerts if the SLA is violated. The 'Pro' plan also supports QuickBooks integration and scheduled data exports. Subscribers to this tier can also receive assistance from Harvey, Hiver's AI bot.
The 'Elite' plan costs $59 per user per month if paying annually or $69 per user if paying month to month. Hiver describe this tier as "Custom access control, round robin assignment and uptime SLA for delivering customer delight.
Even if the price isn't particularly delightful you may enjoy the warning system for potential SLA breaches, as well as skill-based auto assignment of tasks. Subscribers to this plan also receive help with making your data HIPAA compliant. 
If you have over 50 'seats' Hiver encourage you to get in touch for custom quote. You can also sign up for a 7-day free trial of any plan without providing credit card details.
Hiver: Features
Hiver's chief-selling point is that it works as a help desk right from your e-mail. This means if your team has a shared inbox, it can turn e-mails into 'actionable tasks' as the features page puts it. Messages can be tagged and/or prioritized by users. They can even tag other users in notes to help collaborate on issues.
Hiver also supports sharing of e-mails with team mates and other departments via permalinks. Just as with sharing a Google document, you can easily add and remove editing rights to individual users.
Another great perk of switching to Hiver is the fact that the company offers dedicated mobile apps, so your agents can stay connected when away from the office. These are available for both Android and iOS.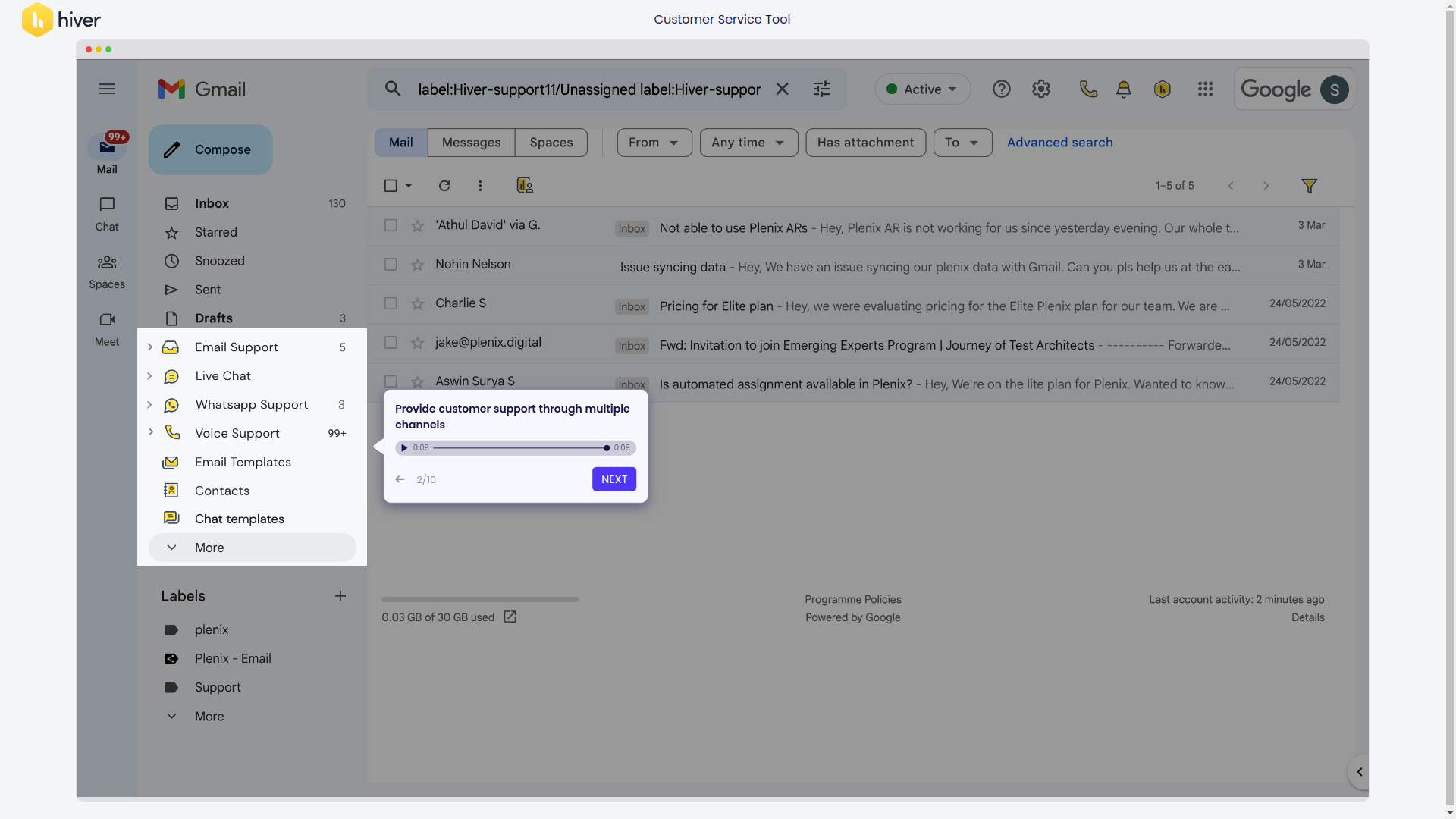 Hiver: Interface
Given that it sits inside Gmail itself, it might be most helpful to think of Hiver as an upgrade to your Google Workspace. Certainly in their video tour showcasing the UI, much is made of how snugly features fit into Gmail, such as being able to provide support to customers through various channels like WhatsApp. You can also use the existing 'Activity' pane in e-mails to assign and track support queries. 
On the plus side if you and your team already familiar with Gmail and are happy to use the interface this will mean virtually zero time spent in getting to grips with it. 
Hiver have also dedicated a page to their workflow management, which makes it easy to visualize tasks assigned to your team by displaying all active conversations in your shared inbox. You can also filter conversations e.g. by team member with just one mouse click.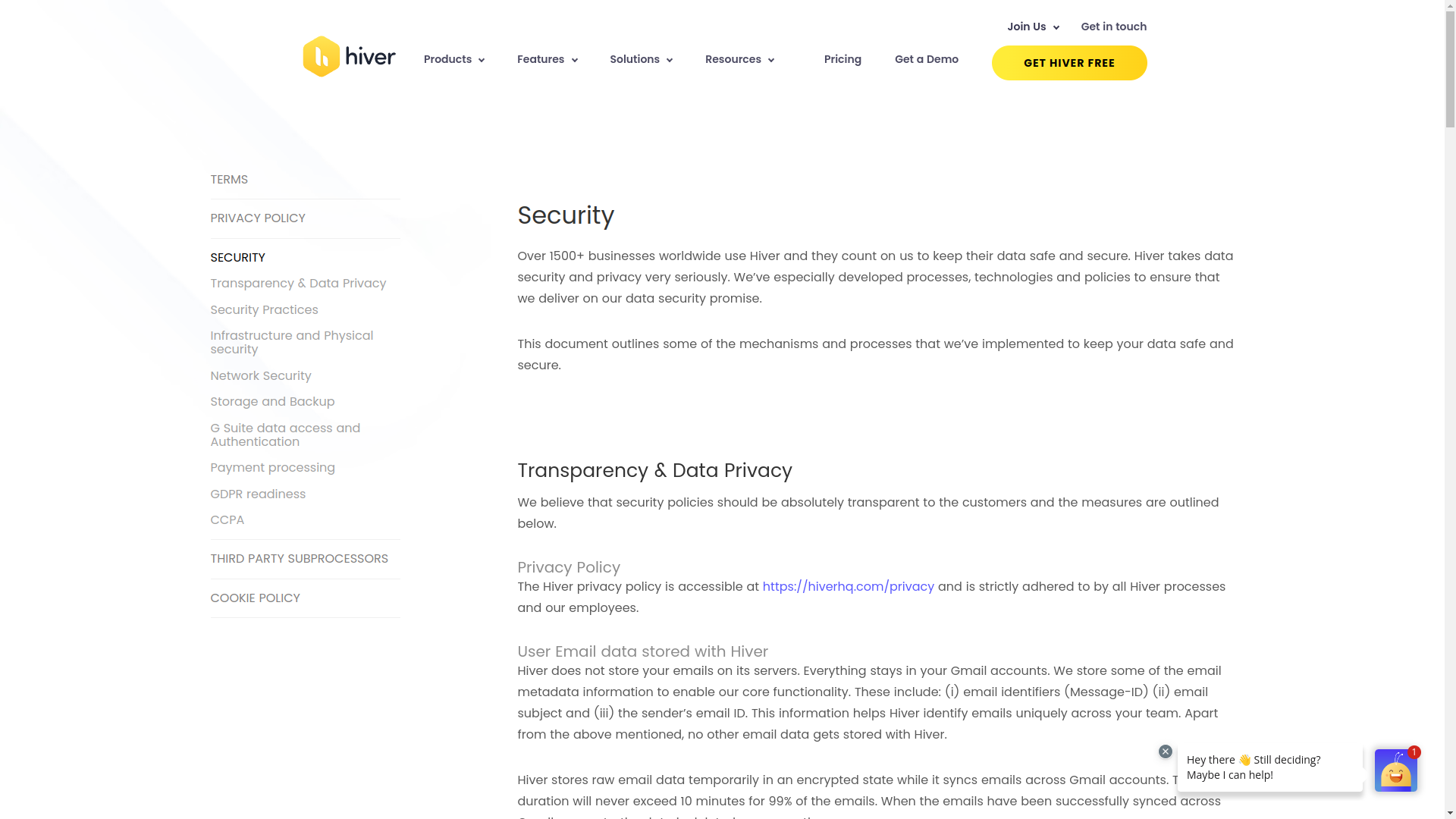 Hiver: Security
Hiver maintain a dedicated 'Security Center' on their website. Given that it sits on top of Gmail, we were pleased to see it answered one of the first questions we had right away : the company doesn't store your e-mails on its servers, instead leaving that to Google. They do, however, store some metadata like e-mail subjects.
When it comes to process e-mail data, they claim the 'raw' data is stored temporarily and encrypted until it's synced across Gmail accounts, after which it's deleted permanently.
Hiver also claim to undergo regular external security audits. All their data is hosted by AWS (Amazon Web Services) in the USA. This means their data centers benefit from all the protections Amazon provide such as 24/7 security and fire suppression systems. 
All Hiver's servers use network firewalls and all data transmission to or from Hiver happens over 128-bit SSL encrypted connection. Their application endpoints are TLS/SSL only and score a rating of "A+" rating on SSL Labs tests.
Unsurprisingly Hiver uses Google SSO (Single Sign On) to access the app and users can revoke Hiver's access to their G Suite at any time.
The company has been working hard to be compliant with GDPR (General Data Protection Regulation) but therein lies the catch :  in 2019 Google was fined for breaching the GDPR. 
The tech giant has recently made some changes to make its Chrome browser more data-protection complaint but the fact remains that Google's business model revolves around serving up targeted ads. This begs the question whether moving your help desk to Google will allow your organization to comply with local data protection laws.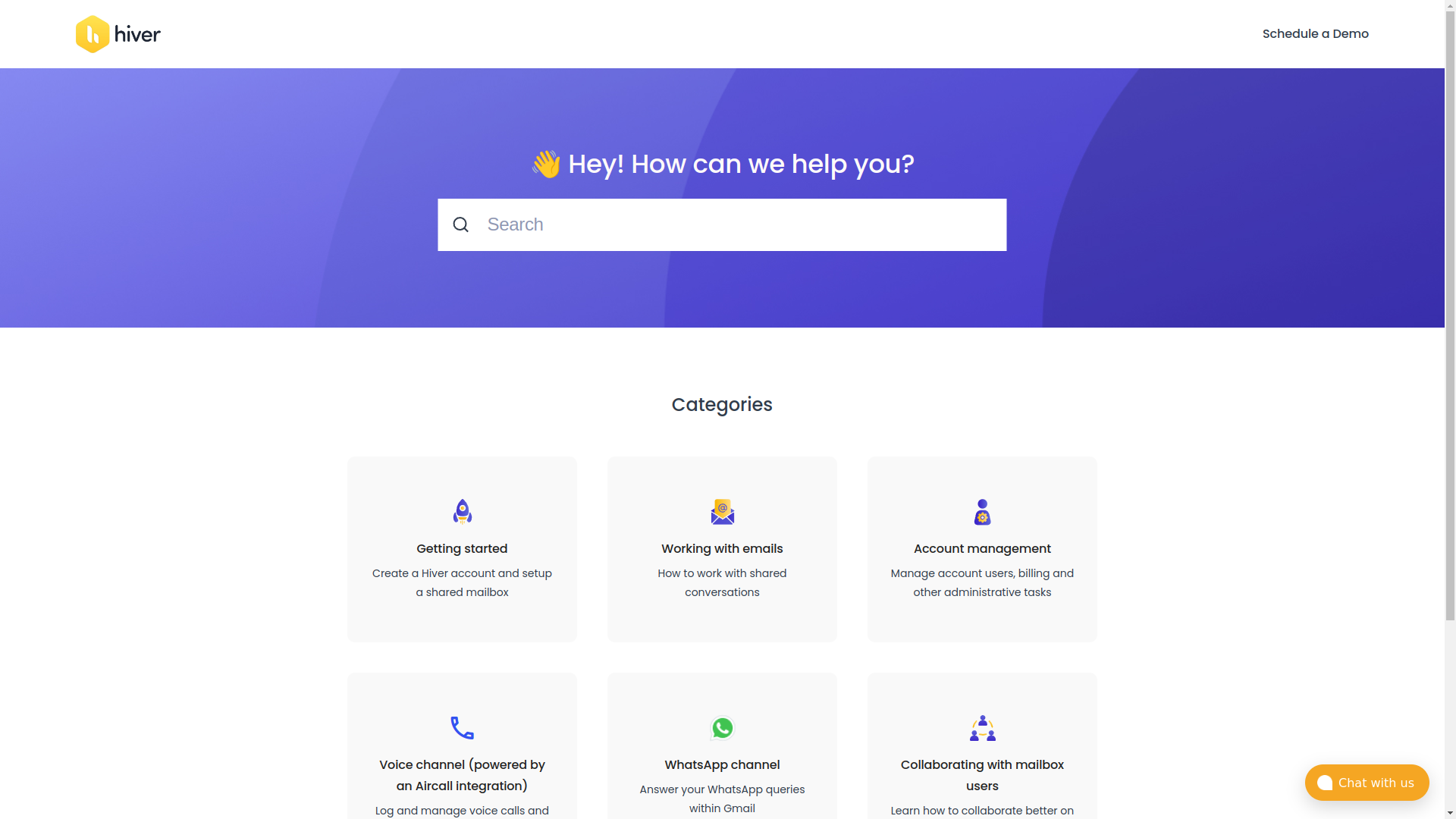 Hiver: Support
Hiver has a dedicated Help Center, with helpful guides on topics like setting up your e-mail account and integrating a WhatsApp channel into Gmail. 
The Resource Center also contains some benchmark reports and a couple of e-books on topics like using Gmail as a help desk. As helpful as these are, the resources available seem quite spartan compared to other help desk providers we've reviewed.
No matter which pricing plan you choose, all users receive onboarding support and 24/7 assistance via e-mail and chat. Only subscribers to the most expensive 'Elite' plan receive priority support however, which includes callbacks and your own 'Success Manager'. 
Hiver: Final verdict
'Hiver' is actually the French word for 'Winter'. We wonder if the owners know this, as the platform could be the 'Winter of your discontent', if you're already using Google Workspace within your organization and want to set up a help desk quickly and smoothly.
Leveraging an existing platform to manage tickets makes perfect sense, especially if you can include extra features like live chat and assigning tasks to other users. The pricing plan also starts from a very reasonable $15 per agent per month.
The biggest conundrum you'll face as a business owner is if you want to trust yet more of your organization's client information to Google, as they don't have the best record for data protection.
We list the best live chat software.