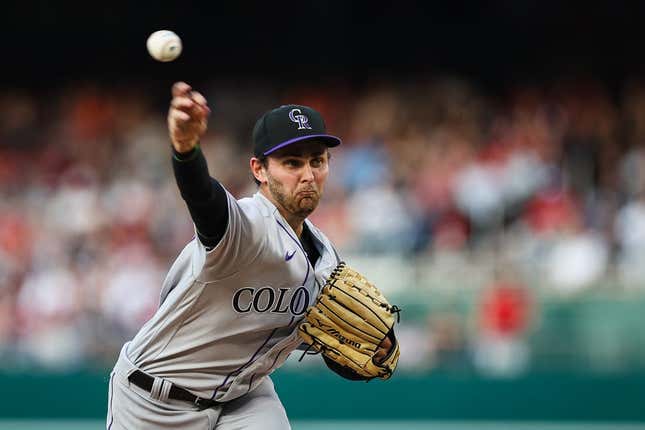 Nolan Jones hit a two-run home run and Alan Trejo racked up four hits as the visiting Colorado Rockies beat the Washington Nationals 10-6 on Monday night
Saudis willing to pay $1 billion for Kylian Mbappe?
Colorado improved to 6-3 since the All-Star break by winning the opener of a three-game series between the two teams with the worst records in the National League. Ezequiel Tovar and Randal Grichuk each had three hits for the Rockies, and Jones and Harold Castro added two hits and two RBIs apiece
Rockies rookie Karl Kauffmann did the heavy lifting on the mound, holding the Nationals to one run on two hits in four-plus innings as the bulk reliever in a bullpen game. Kauffmann (1-3) gave up two hits and one walk and struck out none while posting his first major league victory
Rockies starter Jake Bird tossed two scoreless innings, and after Kauffmann, relievers Brad Hand, Gavin Hollowell and Matt Koch finished the job
The outcome denied the Nationals their first four-game winning streak of the season, as they were coming off a three-game sweep of the visiting San Francisco Giants. Jeimer Candelario's three-run homer in the eighth inning came when Washington trailed by seven runs. Washington's Alex Call hit a two-out, two-run double in the ninth
Patrick Corbin (6-11) took the loss against a team that he has defeated more than any other (11 victories). In 6 1/3 innings, he surrendered six runs, five earned, on 10 hits and two walks with five strikeouts.
Colorado went up 2-0 in the fourth inning on Grichuk's two-run single, giving him at least one RBI in five of his past six games. Jones smacked his ninth home run with two outs in the fifth, increasing the margin to 4-0.
RBI singles from Castro and Tovar in the seventh made it 6-0.
Candelario, who doubled in addition to his 16th homer of the season, and Keibert Ruiz had two hits for Washington.
The Nationals' only hit through four innings came from their first batter of the game. CJ Abrams led off the bottom of the first with a double, but he was stranded at third base. Washington got its first run in the seventh on a Ruiz single
–Field Level Media