Dabang Delhi TTC delivered a commanding performance, securing an impressive 11-4 victory against U Mumba TT in Match 12 of IndianOil Ultimate Table Tennis 2023. Delhi's victory over U Mumba TT was a culmination of the strategic and individual brilliance displayed by their players.
With such remarkable displays of skill and mental fortitude, Dabang Delhi TTC showcased why they are a formidable force in the tournament. This win marked a crucial turnaround after a challenging start in the tournament.
With two wins in four matches and 33 points to their credit, they have now ascended to the second spot on the table. The resounding 11-4 triumph serves as a significant boost, greatly enhancing their chances of securing a spot in the semi-finals. Fueled by this success, Dabang Delhi TTC is now determined to maintain their momentum as they gear up for their final league match.
Now, let's delve into three key reasons behind Dabang Delhi TTC's resounding triumph over U Mumba TT.
---
#3 Jon Persson's Commanding start
The opening match set the stage for Dabang Delhi TTC's resounding victory. Jon Persson exhibited unwavering dominance against U Mumba TT's rising star Manav Thakkar. He claimed the first set 11-8, making precise shots and applying constant pressure on his opponent.
In the second set, Persson continued to assert his dominance, maintaining an impressive level of control over the table. He secured another 11-8 win, leveraging his swift footwork and aggressive shot-making to unsettle Thakkar's rhythm. The third set saw no deviation from Persson's relentless pursuit of victory, as he clinched an 11-7 win, completing a remarkable 3-0 whitewash of his opponent. Persson showcased his experience, exploiting Thakkar's vulnerabilities to establish a winning momentum for his team.
---
#2 Ayhika Mukherjee stuns Lily Zhang in a thriller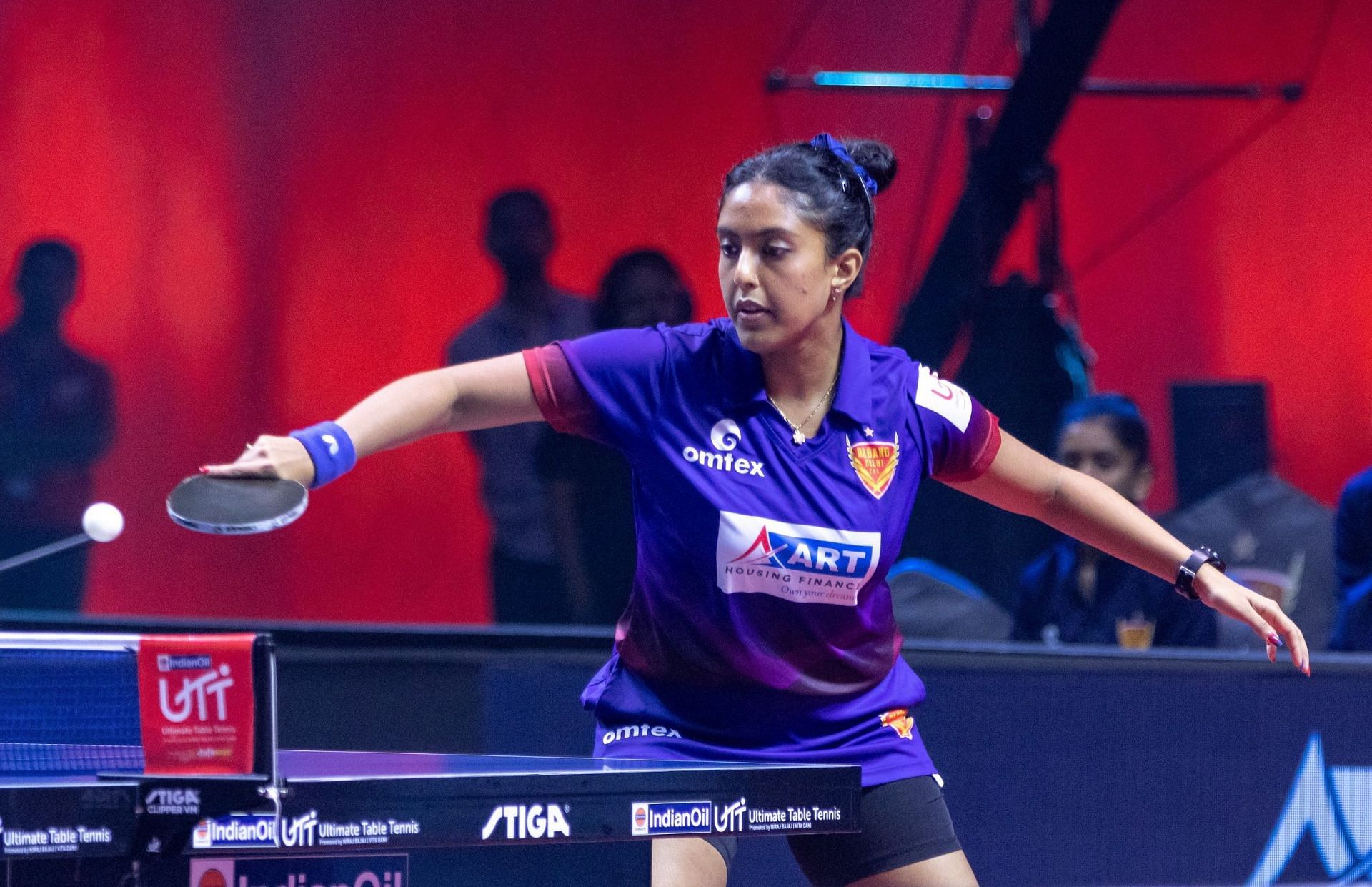 The battle between Ayhika Mukherjee and Lily Zhang proved to be a gripping spectacle. Mukherjee displayed remarkable mental fortitude as the match went down to the wire. In an intense first set, both players fought tooth and nail, with Zhang narrowly edging out Mukherjee with a score of 10-11.
Undeterred, Mukherjee bounced back with renewed vigor in the second set, employing a mix of powerful forehand strokes and well-timed backhand blocks to outmaneuver Zhang. The set went down to the wire, with Mukherjee snatching a thrilling 11-10 win.
In the decisive third set, Mukherjee maintained her composure and resilience, securing an 11-10 victory to claim the match 2-1. Her ability to stay composed during critical moments and tackle Zhang's defensive play proved decisive in securing the crucial win.
---
#1 Sreeja Akula puts the Icing on the Cake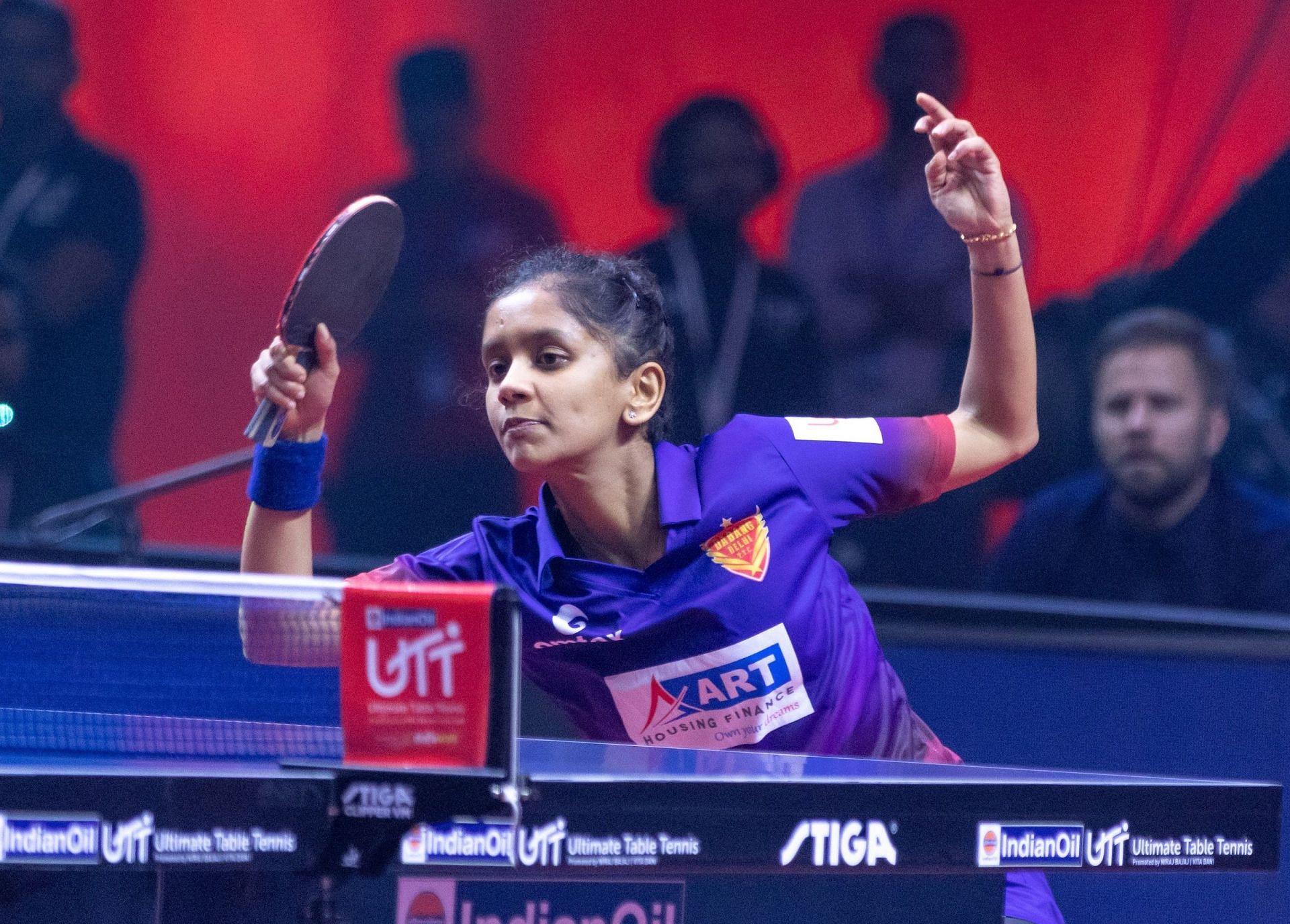 As the match progressed, the spotlight turned to Sreeja Akula, who faced U Mumba TT's Diya Chitale. Akula's imposing presence on the table left Chitale struggling to find her rhythm. The first set witnessed Akula's powerful placements, leading to a convincing 11-8 win.
In the second set, Chitale attempted to rally back, but Akula's relentless pursuit of points and unfaltering focus proved too much to handle. Akula secured the second set with a close score of 11-9.
In the final set, she maintained her composure and executed flawless shots to secure an 11-8 win, completing a remarkable 3-0 victory over her opponent. Akula's domination left Chitale struggling to find a foothold in the match, securing the final blow for Dabang Delhi TTC.